A New Coat for Anna
Illustrated by Anita
Lobel
"Winter had come and Anna needed a new coat. The fuzzy blue coat that she had worn for so many winters was no longer fuzzy and it was very small."
Summary: A little girl named Anna and her mother decide that Anna needs a new winter coat. With no money and in the midst of a war, Anna and her mother must trade personal possessions in exchange for the materials and services needed to acquire a new coat. Patiently, Anna must wait an entire year for her coat to be crafted. Her waiting is rewarded with a beautiful, red coat which she can proudly wear.
Mary Elizabeth's Musings
: Harriet
Ziefert's
touching prose provides a springboard for a strikingly unique setting and theme for a children's book, and Anita
Lobel's
warm illustrations are a perfect match for this absolutely lovely story. The book offers a beautiful lesson in patience and interdependence as the reader awaits the making of Anna's coat. Children who read this book will truly appreciate the time and effort that is invested in making clothing - an incredible lesson in contrast to today's fast-paced, mass-merchandising world. This book is for children ages 6 and up.
Also by Harriet

Ziefert

:
Also illustrated by Anita

Lobel

:


**This post is part of Tuesday Tag-Along at Twee Poppets! Click on the button below to join in the fun!**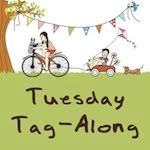 P/S...Since I am on vacation, I am not going to have a mystery children's author or illustrator this week. Back next week!