Written by Ruth A. Sonneborn
Illustrated by Emily A. McCully
Original copyright 1970
First published by The Viking Press, 1970
Published by Picture Puffins, 1987
"Pedro went to the window. He stared down into the street. It was beginning to grow dark.
'I don't see Papa,' he said. ...
'Don't worry,' Mama said. 'Papa will come.' "
Publisher's Summary: "Tonight is Friday night, the night Papa comes home, and everyone is busy getting the house ready for him. But long after the table is set and the street lights are on, Papa still hasn't come home. Where is Papa?"
Mary Elizabeth's Musings: Very, very soft illustrations serve as an ideal backdrop for the somewhat somber mood of this beautiful story. Along with his mother and siblings, Pedro anxiously awaits the arrival of his beloved Papa at the end of each week. Papa must find work away from home during the week in order to support his family, so Pedro's mother and siblings always prepare a delicious supper to celebrate Papa's arrival.
But tonight, Papa is very, very late, and Pedro falls asleep waiting for him. Pedro's sadness is acutely felt in the reader as he waits by the window, his heart aching for Papa. When Papa does finally arrive in the middle of the night, however, the feelings of relief and happiness are overwhelming!
Why I Recommend This Book: For full disclosure, I chose to review this book for two reasons - (1) in honor of Father's Day this coming Sunday and (2) because it is my absolutely favorite children's picture book of all time. I just had to share it with everyone!
The prose and pictures in this book are an impeccable complement to one another, making for a high-quality literature experience. This book also provides a unique snapshot into the life of a financially struggling family whose love for each other far outweighs their monetary strife. It is a heartwarming story that begs to be read again and again!
Recommended for ages 3 - 8 years.
Other books by this author:
Clue #1 for Mystery Friend Friday: FABLE.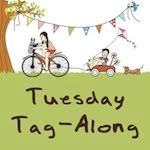 **This post is part of Tuesday Tag-Along @ Twee Poppets blog! Click on the button to join the party!!! **