Written and Illustrated by Johanna Wright
Published by Roaring Book Press
Copyright 2009
"Somewhere, deep in the city of Paris, there is a circus that is so small, and so secret ... only the mice know how to find it."
Publisher's Summary:
Somewhere, deep in the city of Paris, is a circus so small and so secret that only the mice know how to find it. Do you want to know what happens there? Get under the covers with this book and a flashlight and find out. But sssshhhh! Don't tell anybody. It's a
secret
.
Mary Elizabeth's Musings:
Where has this little book been hiding?? It is
absolutely
glorious and endlessly delightful!! Before going any further, I must disclose that I
love
all things Paris ... so I
am
a bit partial to the setting. However, the setting is an integral part of this lovely piece of literature. Written in soothing, repetitive prose, this book begs to be read aloud again and again to eager toddlers. Ms. Wright beckons the reader into the mice's secret world within Paris through her
exceptional
use of repetitive language. The illustrations are beautifully reminiscent of the
Babar
book series, and gracefully reveal the beauty of Paris in luminous echoes of light within Ms. Wright's artwork. This is a perfect bedtime book to lull your sleepy little ones to sleep.
This book is recommended for ages 1 - 4 years.
If
you
love the beautiful city of Paris as I do, here are some other book recommendations:
Clue #1 for Mystery Friend Friday :: Violet ::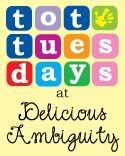 .: This post is a part of "Tot Tuesdays" held at Delicious Ambiguity :.