Did you forget to enter my Father's Day book pack giveaway???
Well...you still have a few days to enter!
Just click
here
for the details!
**Why not join up with this great link party I just discovered over at the blog, Take It From Me? Click on the button below to join in the fun!!**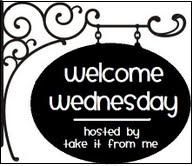 Clue #3 for Mystery Friend Friday :: collage art ::
.: Welcome, new visitors! I am so happy you are here! If you want to find out more about "Mystery Friend Friday," just scroll back up to the Peanuts cartoon located below my header. Details about this weekly feature (and others) are right below it! :.